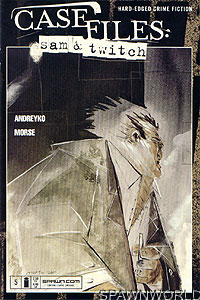 Image: Trent

- Book:
Case Files: Sam and Twitch
- Issue:
5
- Date:
November 2003
- Writer(s):
- Artist(s):

- Scott Morse
- Jay Fotos
- Jimmy Betancourt
- Michael Seghers
- Ben Timmreck

(Illustration)
(Color)
(Letters)
(Art direction)
(Graphic design)

- Notes:
This story arc is told in an interesting 3 tiered format where, roughly speaking, tier one tells the first act of the story, tier 2 tells the middle, and tier 3 tells the final act.

Have You Seen Me? Part 5

Tier 1: Twitch tries to drown his feelings by immersing himself in work. When Sam finally convinces him to go home and get some rest, he finds his son Max Jr. there waiting for him.

Tier 2: Twitch storms into the South African Embassy where he believes the man behind his daughter's kidnapping and his son's murder can be found. He is correct, but before finding him, Twitch is removed by other NYPD.

Tier 3: Sam takes the stand in Twitch's trial.