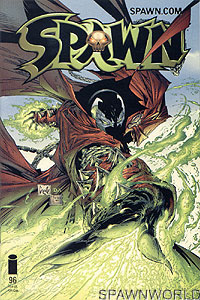 Image: Trent

- Book:
Spawn
- Issue:
96
- Date:
June 2000
- Writer(s):

- Brian Holguin
- Todd McFarlane
(Plot, Story)
(Plot)

- Artist(s):

- Greg Capullo
- Danny Miki
- Todd McFarlane
- Tom Orzechowski
- Dan Kemp
- Brian Haberlin
- John Gallagher
- Boyd Williams
(Pencils)
(Inks)
(Cover Inks)
(Letters)
(Color)
(Color)
(Art Design)
(Art Design)

- Notes:
(N/A)

- Rules of Engagement (Urizen storyline part 2 of 6)

The demons Ab and Zab have successfully summoned Urizen as part of their scheme to bring about armageddon. At the site of his summoning, Spawn and Urizen face off with Spawn not faring so well.

Elsewhere, Angela gets involved in the mess by confronting Ab and Zab within the alleys of New York.