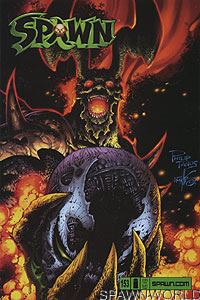 Image: Trent

- Book:
Spawn
- Issue:
153
- Date:
January 2006
- Writer(s):
- Artist(s):

- Philip Tan
- Danny Miki
- Allen Martinez
- Ryan Winn
- Crime Lab Studios
- Tom Orzechowski
- Brian Haberlin
- Andy Troy
- Matt Milla
(Pencils)
(Inks)
(Inks)
(Inks)
(Inks)
(Letters)
(Color)
(Color)
(Color)

- Notes:
Includes "Twitch Journal #1": In his journal, Twitch discusses Spawn, recent events and armageddon.

- (untitled) (Thamuz storyline part 4 of 4)

Spawn battles and defeats Thamuz's inquisitors after he reveals that many souls reside within him. Mammon is shocked by the truth and offers Spawn a truce.

Back on Earth, the Fitzgerald twins are misbehaving and are definitely not like 'normal' children.