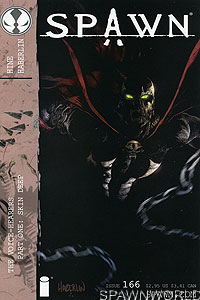 Image: Trent

- Book:
Spawn
- Issue:
166
- Date:
March 2007
- Writer(s):
- Artist(s):

- Brian Haberlin
- Tom Orzechowski
- Andy Troy
- Jay Fotos
- Francis Takenaga
- Diana Sanson
(Pencils, Inks)
(Letters)
(Color)
(Production)
(Production)
(Production)

- Notes:
This issue had 2 different covers. This version is for the 2nd printing, which was limited to 3000 copies.

- The Voice-Hearers Part One (of 3): Skin Deep

Cracks begin to appear in Spawn's new White Light Earth as residents of an apartment complex become perpetrators and victims of a bizarre series of crimes. To find some answers, Twitch tracks Spawn down in his old stomping grounds.