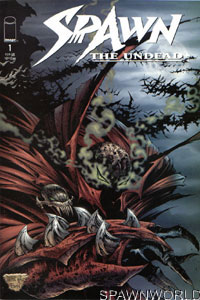 Image: Trent

- Book:
Spawn: The Undead
- Issue:
1
- Date:
June 1999
- Writer(s):
- Paul Jenkins
- Artist(s):

- Dwayne Turner
- Chance Wolf
- Richard Starkings
- Oscar Gongora
- Todd Broeker
- Jay Fotos
- Drew Hutchinson
(Pencils)
(Inks)
(Letters)
(Letters)
(Color)
(Color)
(Color)

- Notes:
(N/A)

- A Face in the Crowd

Tom Sloan is a man who feels lost. He has grown from a broken home into an alcoholic, and the only person who ever cared for him, his sister Tina, was just killed.

Tom decides to end it all by jumping off a bridge but before he can leap, he is interrupted by an angel wishing to lend an ear.