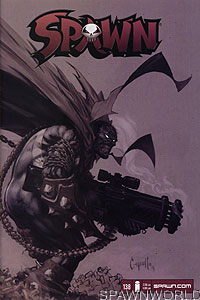 Image: Trent

- Book:
Spawn
- Issue:
138
- Date:
September 2004
- Writer(s):

- Brian Holguin
- Todd McFarlane
(Plot, Story)
(Plot)

- Artist(s):

- Angel Medina
- Danny Miki
- Victor Olazaba
- Allen Martinez
- Crime Lab Studios
- Greg Capullo
- Tom Orzechowski
- Brian Haberlin
- Ben Timmreck
- Jason Gonzalez
(Pencils)
(Inks)
(Inks)
(Inks)
(Inks)
(Cover)
(Letters)
(Color)
(Art direction)
(Graphic design)

- Notes:
This issue's cover is a wraparound. Click Here to see the full image.

- A Thousand Clowns Part Five (of 5)

Nyx resists Mammon's continued efforts to strike a bargain with her, though she desperately wants to help her friends.

Spawn resorts to his militaristic past and acquires some heavy weaponry to fight the unruly mob of evil clowns unleashed by the Violator. Caught in the middle, Sam and Twitch try to hold their ground.